Below is a list of the top ten wrecks I've decided to work with with reference to the research I've completed so far. I want a solid list so that I have an unbreakable idea to take forward before designing.
10. SMS Markgraf, Scapa Flow, Scotland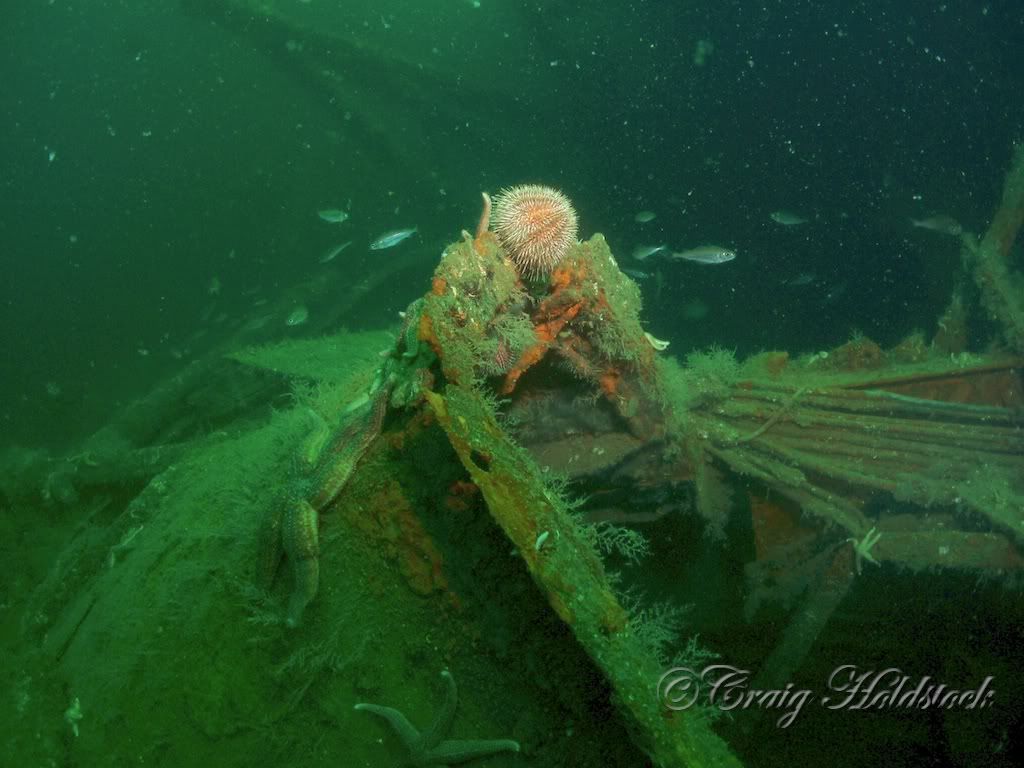 The Scapa Flow body of water famous for the German Navy Vessels scuttled in fear of being captured is quite a diving delight with the remains of 7 of the 78 ships under Scapa Flow waters today. The Markgraf is one of three Konig class battleships to see in the area but is arguably the most accessible due to being at a depth of only 24 meters. This 26,000 ton battle ship with 177 meters in length has its hull opened up, allowing the diver a unique view into the torpedo room and a swim right through the stern. The immense size of the wreck makes it difficult to cover in one dive and it can be dived on two levels.
9. Umbria, Wingate Reef, Sudan
This 1912 German freighter turned Italian cargo ship scuttled just off the coast of Sudan, to avoid capture by the British offers great marine life without the crowds making it a great wreck to dive. The Umbria at an impressive 400ft offers more than just the ship itself. At the time it was sunk the ship went down with a huge loot of cargo- 360,000 aircraft bombs, Fiat cars and its lifeboats are strewn. Put simply, the wreck has sufficient features and associated marine life to keep any diver busy for days on end. There is the propeller, the cars inside the hold, the cavernous space of the engine room, the ghostly remains of the galley, and the intact railings covered in bright red sponges. This is the only wreck in the Red Sea to rival the Thistlegorm which we've rated at No.2
8. Zenobia, Larnaca Bay, Cyprus
10 minutes from Larnaca, Zenobia the 10,000 ton ferry sunk on its maiden voyage in 1980 after something went terribly wrong with its computers. Luckily for divers this Swedish Roll-on/Roll-off ferry was carrying more than 120 vehicles, including articulated lorries, when she sank in 130ft of water. With good diving for all experience levels, one can opt for a relatively simple 16 meter dive or a more complex and advanced dive to the lower car deck if you're are an experienced scuba diver. There is plenty of sea life from Sea bream, grouper and even barracuda but most memorable is the huge ferry that has an almost eerie 'ghost ship' feel to it. Several dives later and you'll still not be able to do justice to this wreck.
7. MV Captain Keith Tibbetts, Cayman Islands
This 330-foot Russian frigate brought deliberately from Cuba and sunk off the coast of Cayman Brac in Sept. 1996 to form an artificial reef is an absolute pleasure to dive. Snappers, nudibranchs and moray eels have taken up residence in the ship, which storms have now broken in two making it easier to access for divers. The canons fore and aft as well as the wheel house tower are major draws to this dive site.
6. SS Yongala, off coast of Ayr, Australia
This enchanting Australian passenger ship lying within the Great Barrier Reef Park lay undercover for over half a century since it sank in a cyclone in 1911. Today home to giant groupers, schools of trevally, cobia, turtles and sweeping rays among plenty of others, the ship, only a 30minute journey from the shore is known as one of the top wreck dive sites in the world to dive.
5. Blackjack B17, Milne Bay, Papua New Guinea
The Blackjack, a B17 military bomber aircraft made by Boeing is not your usual wreck dive. The flying fortress that now lies about 45 meters deep and the sandy sea bed just off the coast of Papua New Guinea after a bombing mission in Japan. Still intact despite its not so smooth landing, divers can inspect the cockpit, turret guns amidst groupers and other fish. The seats are in place and you can quite easily visualize the pilot and co-pilot in the closing moments of this tough airplane's war history. Papua New Guinea's crystal clear waters and this mint condition aircraft wreck make it a topnotch spot to experience.
4. Fujikawa Maru, Truk, Micronesia


Truk Lagoon, Micronesia is a definite must on any serious wreck divers list. It holds the remains of the almost an entire Japanese fleet including 60 shipwrecks and dozens of sunken air crafts destroyed in 1944. Of these many wrecks to choose from the 7,000 ton freighter Fujukawa Maru is notable as one of the best. This specific wreck stands upright in shallow water, making the 437ft wreck pretty accessible. The bridge area with sake bottles, the engine room and wings in the hold covered in soft coral and frequently circled by grey reef makes this a exciting wreck to dive.



3. USS Oriskany, Pensacola, Florida

The former US Navy Aircraft carrier now holds the record as the largest artificial reef in the world. After having served the US Navy in both Korea and Vietnam, the 900 foot, 30,000 ton carrier was deliberately sunk in the Gulf of Mexico in 2006 as part of a pilot program which aimed to create artificial reefs. The Oriskany lies upright and rises almost 164ft from the seabed, just over 20 meters below the surface making it perfect for both new recreational divers as well as more experienced divers with its flight deck at 40 meters. Apart from the wreck itself th sightings of tuna, grouper and amber jack make this a great dive site.

2. Thistlegorm, Sharm el-Sheikh, Egypt



Arguably one of the most famous wreck dive destinations and also the busiest in the world, the Thistlegorm is a British Merchant Navy ship that was sunk by German bombers in WWII. The 400ft long container ship filled with motorbikes, Bedford trucks and even Lee Enfield rifles sank in 1941 when it was hit by a German bomb that blew a hole in the port side, igniting tank ammunition that was in the hold. The explosion ripped the roof of the ship backwards, rather like opening a tin of sardines giving divers an inside display of the ships merchandise. This Red Sea dive site has got plenty to see both inside and out with plenty of marine life around. Sightings of hammer-heads, jacks, trevallies and huge napoleon wrasses are reported here. The only drawback is the site's busy nature and it's often said that 20 dive boats are stationed above the wreck with its divers exploring it below.

1. SS President Coolidge, Vanuatu



One of the largest, most accessible wrecks in the world, the SS President Coolidge is a wreck diver's dream. This massive luxury liner, built in 1931 converted into a Second World War troop ship is more than 600ft long and divers can explore it on both shallow and deep dives. To see the whole ship in all its majestic splendor sitting at the bottom on the sea bed would require at least 10 dives. What you can expect to see other than the ship itself are heaps of military gear including howitzer cannons, a 10-wheel General Motors Corporation truck, jeeps, tracked vehicles, steering wheels and tires.