As me and Sadie have changed our brief, from working with shop interiors to restaurant interiors, we have made a significant jump with our contextual research. The restaurant we are proposing work for is a Mexican restaurant and wants us to look at sugar skulls and the Mexican day of the dead, this means that we can link in our previous research into anatomy with a theme that is coincidentally based around the same subject matter. The back of the restaurant has a Mexican map stretch out across the wall that the manager wants re-doing, below is some research I've started to conduct at gathering research into Mexico.

Brief information about Mexico
Mexico (Spanish: México), officially the United Mexican States , is a country in North America, lying between the United States of America to the north, and Guatemala and Belize to the southeast. Its extensive coastlines include the Gulf of Mexico and the Caribbean Sea to the east and the Pacific Ocean to the west. Mexico has nice and warm weather, unique food, art and archeology, pyramids, museums, Haciendas, 6,000 miles of shoreline, superb architecture and 21st century cities, weather from snow mountains in the Sierras, to rainy jungles in the Southeast and desert in the Northwest, lots of golf courses throughout the country, excellent fishing, world top destinations like Acapulco, Cancun, Cozumel, Los Cabos, and Patzcuaro. Mexico is ranked 7th major destination for foreigner visitors, according to WTO.
Cities
Mexico City
- Capital of the Republic, one of the three largest cities in the world, and a sophisticated urban hub with a 700-year history. In Mexico City, you will find everything from parks, Aztec ruins, colonial architecture, museums, to nightlife and shopping.
Acapulco
- A sophisticated urban beach setting known for its top-notch nightlife, elegant dining, and nightmarish traffic. Many of the older (pre-1990s) concrete structures have suffered tropical decay.
Cancun
- One of the worlds most popular and famous beaches, known for its clear Caribbean waters, its lively party atmosphere, and its wealth of recreational facilities. During Spring Break it is noted for drinking, sunburns, and debauchery.
Guadalajara
- A traditional city, capital of Jalisco state, and the home of mariachi music and tequila. Guadalajara is blessed with perpetual spring weather and its colonial downtown is graceful and sophisticated.
Mazatlan
- Lively Pacific coast town, Mazatlan is a shipping port, a transportation hub with ferries to Baja California, and a beach resort destination with miles of sandy shore. It is a popular Spring Break destination due to its variety of affordable lodging options.
Monterrey
- A large modern city that is the commercial and industrial hub of Northern Mexico. Monterrey enjoys a dry, mountainous setting and is known for its high-quality educational and transportation infrastructure.
San Luis Potosi
- Located in central Mexico, a colonial city that was once an important silver producer, but today, relies on manufacturing for its economic base.
Taxco
- In central Mexico west of Cuernavaca, this nice steep mountain town was once a major silver producer, and now has a strong place in the trade of decorative silver, from cheap fittings to the most elegant jewelry and elaborate castings.
Tijuana
- Mexico's busiest border crossing for pedestrians and private vehicles, and a long-time bargain Mecca for southern Californians due to its proximity with San Diego.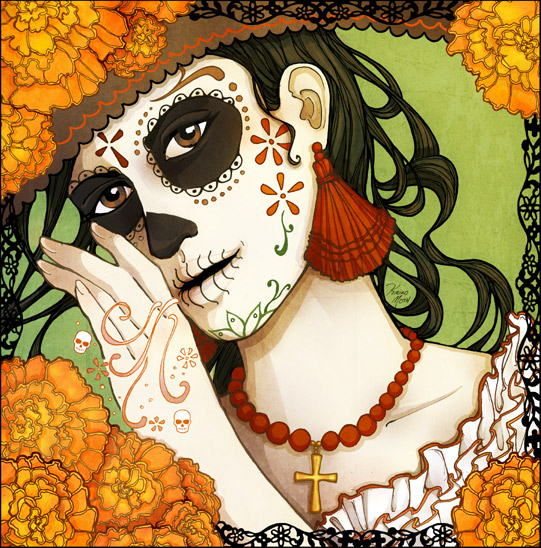 http://www.dayofthedead.com/
Day of the Dead
: is a Mexican holiday celebrated throughout Mexico and around the world in other cultures. The holiday focuses on gatherings of family and friends to pray for and remember friends and family members who have died. It is particularly celebrated in Mexico, where it is a national holiday, and all banks are closed. The celebration takes place on November 1, in connection with the Catholic holidays of All Saints' Day and All Souls' Day (November 2). Traditions connected with the holiday include building private altars honoring the deceased using sugar skulls, marigolds, and the favorite foods and beverages of the departed and visiting graves with these as gifts. They also leave possessions of the deceased.

Sugar Skulls
How are Sugar Skulls used during Dia de los Muertos (Day of the Dead) today?

Sugar Skulls are often used to decorate the ofrendas on Dia de los Muertos which is November 1st and 2nd. Smaller skulls are placed on the ofrenda on November 1st to represent the children who have deceased. On November 2nd they are replaced by larger, more ornate skulls which represent the adults. These decorative skulls have the name of the deceased on the forehead and are decorated with stripes, dots and swirls of icing to enhance the features of the skulls. These designs are usually whimsical and brightly colored, not morbid or scary. Feathers, beads or colored foils are "glued" on with the icing to create highly ornate skulls. Some companies manufacturer small, edible skulls to be eaten during the holiday and many artists sculpt, paint or create beautiful and ornate skulls to be used as decorations, jewelry and cloth design.
What are Sugar Skulls?

Sugar skulls are exactly that- skull-shaped sugar. Traditional Sugar Skulls are made from a granulated white sugar mixture that is pressed into special skull molds. The sugar mixture is allowed to dry and then the sugar skull is decorated with icing, feathers, colored foil and more. While the ingredients of Sugar Skulls are edible (with the exception of the non-edible decorations you may add) the skulls are generally used for decorative purposes. However some small sugar skulls that are made with basic icing are intended to be consumed.

Where were the first Sugar Skulls made?

Dia de los Muertos was an Aztec ritual that celebrated the lives of those who have deceased. The Spaniards who invaded Mexico tried to eliminate this seemingly offensive month-long holiday with no success. Dia de los Muertos was eventually merged with the Catholic All-Saints day and All-Souls day on November 1st and 2nd in an effort to make the holiday more Christian.

According to Angela Villalba from the Reign Trading Co. sugar art dates back to the 17th century when Italian missionaries visited the New World. Mexicans during that time period had very little money and learned from the Catholic friars how to make decorations out of an ingredient they had plenty of- sugar. Molds were made of clay and the sugar decorations were used to adorn the church as well as ofrendas and gravestones. For the Dia de los Muertos celebrations the sugar was pressed into Sugar Skulls and each sugar skull represented an individual and their name was often inscribed on the forehead of the skull.

I found these prints below, this is exactly up mine and sades street in terms of composition and media, they've used intricate layers of colour to build up a detailed series of Mexican sugar skulls. I want to stray away from the self explanatory obvious subject matter and produce something more abstract but this is a really good example of the work I'd like to produce.

Celebrate the Day of the Dead a little earlier this year, with this great set of prints from London-based studio, Telegramme...
The graphic design and illustration studio kindly sent CR a set of their latest printed beauties, the Calavera Summer Series.